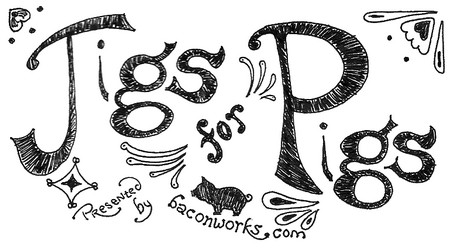 Last weekend was the Deep River Ancient Muster, for those not in the know. At the muster, I handed out a little book of jigs to fifty random people…free. Free baffles people. They don't know what to do and I always get great reactions.
The last time I handed out a free book at a muster I met a guy named Chris Myers, who decide that he should hand out free music as well. The funny part was that I didn't actually meet him until he passed around tunes on a card a year later. Apparently I had given him one of my books and he was inspired to continue the giving. That's the kind of payback you can't put a price on.
Here are the liner notes as well as a list of links to the tunes that were included.
The inconvenient truth of global warming got you down? Jigs.
Do our Middle Eastern escapades have you pining for peace? Jigs.
Wondering if you're in shape enough to ride the sixteen miles to work on your bicycle once the price of gas exceeds the spot price of gold? Jigs.
Tired of reels? Jigs.

If you answered yes to any of the above questions … Jigs for Pigs is for you! I used to write reels. This year, all Jigs.

Admit it, we've all been a bit piggish lately. It's time to trim the fat.
To help ease the pain … Jigs for Pigs
Indigo – article, music
Stone's Mongrel – article, music
On the Mend – article, music
Blaze in the Barn – article, music
The Nobel Train – article, music
Franklin's Harem – article, music