Composer: Chris Myers, from Portsmouth, RI
Music: Mustah Foot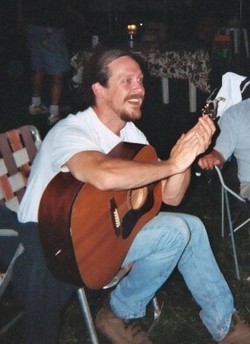 I play the fife, guitar, saxophone, and am in the embryonic stages of playing Irish flute and tin whistle. I am also a singer/songwriter, and have a fairly decent-sized repertoire of original music.
I've been a life-long musician, whose creative spurts have come in bursts, recently only slightly hampered by the demands of real life: marriage, home ownership, kids, pets, career, etc., but recently the 'real life' job has been viewed as what I do during the day to support my music habit. I've been involved in the fife and drum world for about 5 years, having come from a background of high school marching band, and having never picked up a fife before then. I took to the fife pretty quickly, and soon became Fife Sergeant with my corps, the Kentish Guards, having also been mostly responsible for putting together our summer stand pieces, and medleys. In addition to playing and composing, I've also taken to adding harmonies to some traditional, and traditional-style fife tunes, some of which have been incorporated into the KG's standard repertoire.
I compose under the Zen-like theory that there really is only one tune. We just play different parts of it at different times.
Chris did not provide me with a web site. However a quick google search finds him busy on pages like this.
In addition to Chris's bio, he also included a kind statement about the contest.
I think what Greg is doing here is a spectacular example of the spirit of traditional music, and regardless of the outcome of this little experiment, I think the world is a better place for having given folks the opportunity to add just a little more beauty to it.

Thank you, Greg.
Thank you, Chris.