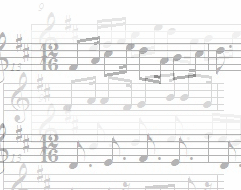 There is nothing like competition to draw out the best in humans. The first nonstop flight from New York to Paris, for example, was achieved through the spurring of a competition called the Orteig Prize, which was won by Charles Lindbergh. The $25,000 dollar prize could not cover the true expenses that all incurred, including the lives of six men. The prize did serve, however, as a carrot that helped galvanize a fledgling aviation community into striving towards a common goal.
One goal that I have is to develop a stronger sense of community between musicians that are interested in writing music. In the spirit of that goal, I would like to present the Baconworks Tune-smithing Contest. Unfortunately there is no $25,000 prize and I expect that the risk to life and limb is substantially smaller than flying over the ocean for the first time. In any case, I am hoping that you will join the fun.
Here are the details:
The contest is for the authoring of an original tune that can be played on a traditional instrument (i.e. fife, fiddle, banjo, bouzouki, hurdy gurdy). It can include harmony. You may submit more than one tune.

The Grand Prize:
The winning piece of music, along with an author profile, will be published in the next edition of The Ancient Times, which is a quarterly newspaper that is created for the fife and drum community.





Plus, you'll get a great sense of self satisfaction, which we all know you can't truly put a price on.
The Ground Rules:
All submissions must be emailed to contest@baconworks.com by noon on January 1st, 2008.
Each submission must include the following:
The notation of the tune. You can send a Finale file or a scanned image of your tune written out on a napkin. I don't care what it looks like as long as it is legible. If for some reason I can't read your file format, I will let you know and give you an opportunity to resubmit assuming it is before the January 1st deadline.
An audio version of the tune. Mp3, wav, and midi files are all acceptable. I am not looking for professionally quality recordings but instead just a way for people to hear your tune. Having said that, a better quality recording will likely sell your tune better.
Author information:

Your First and Last name
The instrument you play
A blurb about who you are. Maybe something interesting about yourself that you would like people to know.
A link to your web site, myspace page or facebook page. This is optional but would be nice to include so that I can link back to you.

A picture of yourself. You can be disguised if you like, but a picture nonetheless.
The Process:
I will make an individual blog post for each piece of music including the notation and the audio file. This post will not include any author information.
Separately, I will do a blog post on each author including all the Author information you send me. This post will not include a reference to the tune that was authored as I would like to keep the tune anonymous until the end of the competition.
Public voting of the tunes will take place via email between Monday, January 7-11th. All votes must be in by 5pm on Friday, January 11th. Anyone with an email address is allowed one vote. All votes must be sent to contest@baconworks.com.
The submission with the most votes will win. The winner will be announced on Monday January 14th on baconworks.com. I will only vote in the case that a tie breaker is needed.
Following the winner announcement, I will write up another blog post connecting all the authors to their tunes.
Lastly, the winning tune and a bit about the author will be published in the Ancient Times following the competition.
I encourage anyone that has even thought about writing a tune to participate. This contest is ultimately about getting involved with the community of tune writers. And, as you may know, if you had fun, you won.