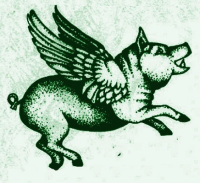 As the votes continue rolling in for the tune writing contest, something has been on my mind. Before I get to my question, let me remind you that all votes must be in by 5pm EST, Friday, January 11th. So, if you haven't voted yet, now is your chance.
With that out of the way, here is what I've been wondering: What impact does a name or a title have on your decision making process?
Let me lead in with an example. My boss recently told me that she is planning on running the Flying Pig Marathon. Why this particular marathon? Because of the name. She is willing to run 26 miles and 385 yards, in this particular marathon, because of the name. Now, I don't know about you but I wouldn't even drive my car 26 miles because of the name, but I digress.
Here is what I want to know. Are you more likely to learn a tune because of the name? We could even run a little side contest…ooh, good idea, let's run a side contest. This contest, actually it is more of a survey, is much simpler than the first. Of the twenty tunes submitted to the contest, is there one or two where the names are really compelling? Which name do you like the most and why? Instead of emailing me, simply leave a comment to this post with your favorite names so everyone can see.
My votes goes to The Festering Fish, because of the disgusting alliteration, and The Feast of the Geese Eaters because of the intrigue and the imagery that it conjures up.