People often wonder why we travel all the way to Switzerland to play music. Incredibly, Switzerland, and I am speaking most specifically about Basel, has an amazingly rich tradition of piccolo and snare drum, which can be seen annually in their colorful festival called Fasnacht.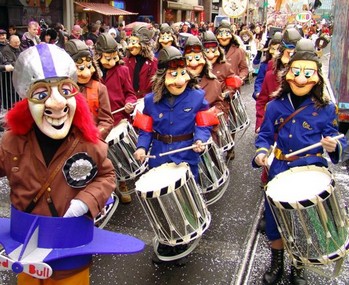 To an outsider the music may seem similar to American fife and drum. The literature, style and instruments, however, are all different. They are different sort of like how jazz is different from the rock'n roll. Throw a rock guitarist into a jazz band and without the proper experience he will likely flounder. Yet, there are enough similarities that will make the jazz-rock crossover intriguing. The same is true for American fife and drum and Basel piccolo and drum.
In addition, just about everyone I've met in Basel plays either the drum or piccolo. It is serious business. Consequently, many people from Basel are interested in hearing American fife and drum music. As a result, American fife and drum corps have been sprouting up in Switzerland over the last couple of decades. Likewise, we love to hear their style of music.
Fortunately for me, there was a piccolo and drum band, or clique, performing on the evening of our arrival. Incidentally, one of their piccolo players is also a member of the Swiss Mariners. So, the first bit of music I heard in Switzerland was actually Basel style music. It was a nice way to start the trip. The final piece the clique played is called the Wettsteinmarsch, which is a very well known tune in Basel, named after one of the main city bridges that crosses the Rhine. If you listen closely you will notice that they do not have bass drums, as they are not part of their tradition. Instead, you will notice, their snare style shifts abruptly between very soft and very loud much more so than our style of drumming. Also, I love hearing the high piccolo harmony that plays above the melody. Our American fifing very rarely has harmonizes in such a way.
So, the recording that I captured here is of the clique named 1884, which is an offshoot of another famous clique named VKB.
Let me warn you; I took some liberties with this recording. Hours after we heard the Swiss perform, the Mariners were in the Baggenstos cleaning their mugs with beer. My buddy Joe thought it would be a good idea to play the Wettsteinmarsch. Problem is, he does not know how to play it. So, as an intro to the Swiss playing on their native instruments, I've merged in the results of Joe's attempt at playing this Swiss classic for our Swiss friends. I love how relentless the Swiss drummers are here. Joe played all of eight notes and the drummers jumped on his lead and continued on without him and, ultimately, the entire Baggenstos continued without him. What fun.