Morphing reels to jigs, and vice-versa, is a fun game that we sometimes play on Tuesday evenings at John Stone's. Here is how it works. We take a tune, any tune, and begin playing it in a different time signature. If it is a reel (2/4), we might play it as a jig (6/8) or as a slip jig (9/8). My buddy Brian Hebert is sort of the king of the morphs. In fact, he has just released a whole CD of Beatles morphs. On his new album, Any Time At All, he took classics like She Loves You and turned it into a slip jig, Penny Lane is now a hornpipe, and Strawberry Fields has been rendered as a waltz.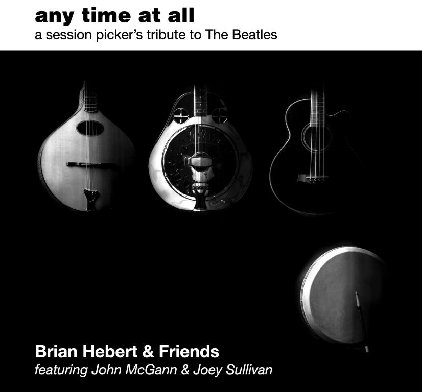 Here is what the Liverpool Echo – yes the very same Liverpool that gave us the Beatles – had to say about Brian's new album:
A SURPRISINGLY gutsy album of instrumental Beatles songs done in a raw and edgy Celtic folk style. Crammed full of wild bodrans, duelling mandolins, and skirling Irish pipes, reminding of Planxty, de Danaan and The Chieftains, with a taste of Bert Jansche's Pentangle, it's a radical reinvention of the great Lennon and McCartney songs that brings a whole new dimension to something we thought we already knew everything there was to know about.
Tonight I, along with Unstachio and our friend Joey Sullivan, backed Brian and a couple of his Beatles morphs for a local Television station. It was a good bit of fun and was a great opportunity to see how a TV show is produced first hand. It was also the first time I have ever performed for a TV show. Not quite Ed Sullivan, but cool nonetheless.
You can find out more about Brian and his CD on his website. Also, you can order a copy of his CD from cdbaby.
To whet your appetite I've included a track from his CD, which you may recognized as Please Please Me as a Jig.

Please Please Me Jig by baconworks