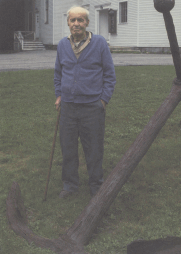 My great, great uncle Stinson Davis, pictured above, was a sailor. He wasn't just your average day sailor. He was the real deal. In fact, he was the last real deal.
| | |
| --- | --- |
| A captain of three, four and five masted schooner ships during the waning age of sail, he spent years of his life carrying whale oil from the West Indies, coal from Portugal and hauling lumber out of Africa. | |
Stinson was one of those witty Yankee Mainers with enough salt and grit to live four years past the centenarian mark in spite of the fact that he was cast adrift twice after loosing his vessels at sea. He had two lives worth of stories and if I accumulate half the stories of one of those lives I'd have twice as many as anyone I know.
When I was fourteen I attended his hundredth birthday party. You think it is hard buying a gift for your dad's birthday? What do you get someone turning one hundred? My father was wise and convinced me to do some research and draw him a big map of all his sailing routes. I spent weeks with colored markers and piece poster board charting his journeys. On the day of his birthday party, in some Grange hall near Five Islands, Maine I nervously presented my gift. He quietly looked it over. After a few moments, instead of a 'thank you', he began pointing out the routes I had missed, like the one that lead him a thousand miles up the Congo River. He began to tell me stories of his voyages, bouts of malaria, brothers lost at sea, The Maude Palmer, Cape Horn and the hazards of Cape Hatteras. I suppose I thought I was giving an old man a map to remind him of the places he'd been. Truth is, he didn't need it.
Reflecting back to that day I think it is safe to say that my real gift to him was the wide eyed curiosity of a young boy. And in a way it was he who gave me the map. I pull out that map on days when life is hard and I ask myself this: Have I really been everywhere I want to go? If the answer is 'no' then it is time to start charting a course for my West Indies, even if it means that I will have to face the Hazards of Hatteras.
The following tune is the first one I wrote that I was every happy with. It is also the first of many that have titles that serve as my own reminders of my ancestry. I have included two mp3's in which you will find three stylistic variations of the same tune.



The first recording was done by The Ancient Mariners and comes from a live album I co-produced with good friend Roger Hunnewell. Incidentally, that is me with outstretched arms at the top of the disc and no, I was not responsible for the artwork. The graphic work was a surprise to me! The second is from an unreleased recording that I did back in 2000. I was interested in combining both fifing style with Irish flute style onto one track. Lastly, here is the chart for this trio.