After posting my article about the Wettsteinmarsch I immediately received some important corrections from my Swiss friends. I had falsely asserted that the Wettsteinmarsch was named after the Wettstein bridge. There is however, much more to the story.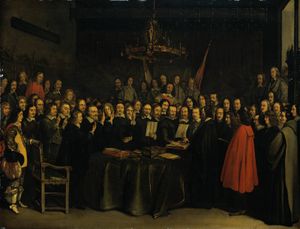 My friend Andri tells me the following:
The Wettsteinmarsch, the Wettsteinbridge and the Wettsteinsquare is so called in honor of Johann Rudolf Wettstein, who was mayor of Basel (1645) and a famous swiss diplomat who accomplished independence of the Swiss Confederation from the Holy Roman Empire of German Nation in 1648
Roman, another friend, tells me this:
As mayor of Basel, he went to the negotiations [for the Old Swiss Confederacy] after the 30 years war (Westfälischer Frieden – 1648) despite having no invitation.
Thanks for the corrections guys.