Today I received an email from someone I have not heard from in ~20 years … apparently Facebook really does have a way of connecting you to your past. Anyhow, this old friend ultimately stumbled upon baconworks and asked me about more music that her children might be able to step dance along with. So, I began poking around my site, realizing how difficult it actually is to find all the mp3's I've posted (I'll have to fix that), and discovered that I have yet to post a few of the tracks from my old Amadán album. I guess I'm just getting lazy.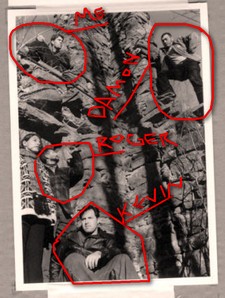 This set of tunes was the first that we recorded as a group. As I recall, we were real excited to get into the studio and lay down some tracks. We were well prepared, had it all planned out…except for the part where Kevin, our guitar player, broke a string while tunning up. In his guitar case he found no spares. I offered my guitar, not the prized Lowden, but instead the infamous Rhapsoby . No, that is not a misspelling. Rhapsoby, not Rhapsody. The guitar is so obscure that even a Google search turns up almost nothing. And when I say 'obscure' I don't mean the good kind, like a 1909-S VDB penny.
Needless to say, Kevin wanted no part of the Rhapsoby. So, there we were, wasting precious time and money in the studio, with no guitar. We had no other choice but for Kevin to leave the studio to try and track down some strings. Scrap all the practices and all the preparing, we had to come up with a new plan, which, of course, we did only after Kevin left on his hunt for new strings. In his absence Roger the percussionist, Damon the fiddler and I on the Rhapsoby, pulled this old set out of the bottom of our repertoire. We recorded it once or twice together and had the track nearly finished, to Kevin's dismay, by the time he returned an hour later with his new strings.
The set starts with a little Rhapsoby intro, followed with some tempo challenged foot stomping. Incidentally, the foot stomping seems as bad of an idea today as it did then, but neither I nor the engineer could convince Damon to can his cacophonous idea. In addition, my good friend Roger plays some real nice Bodhrán and Bones throughout the set. And, just so Kevin didn't feel entirely left out, we let him overdub some tenor banjo.
Incidentally, I enjoyed Devany's Goat so much that years later I did my own recording of the tune, this time setting aside the Rhapsoby and opting for the Lowden.
So, I don't know if this is step-dancable but, here is Moving Cloud, Devany's Goat and Julia Delaney.