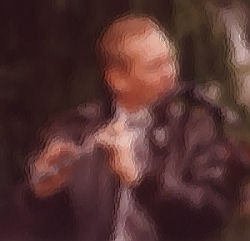 Over a few pints in the local establishment Skip, Mark and I watched as the Red Sox failed to deliver the go ahead run in a critical playoff game. As frustrating as that was, the evening of Celtic music that preceded it gave me plenty of positive energy to make the late night drive back from Connecticut where the three of us played together for a very appreciative crowd.
This was our second time playing together and it felt like a reasonable improvement over the last time. Instead of amplifying our show we opted to rely on the natural acoustics of the hall for the Company of Fifers and Drummers, which is in Ivoryton. Skip Healy, a true entertainer, played not only a beautiful variety of traditional and original jigs, reels, marches, aires and hornpipes, but also mixed in his own unique form of humorous storytelling, sprinkled with insightful commentary on the music he plays.
As we were reflecting on our performance over that aforementioned pint, Skip shared with me his thoughts on performing by reminding me of a quote by John Ringling: "The public would rather be entertained than enlightened." Well I certainly felt, as I was playing next to Skip, that he gives you a bunch of both.
Here is one set from our show. This is a brand new set of tunes that Skip authored. The first tune is called the Gotha Swale and the second is The Taxes are Late and the King is Still Dead. You'll just have to go to his next show to hear the story behind those names. It will be worth your while.