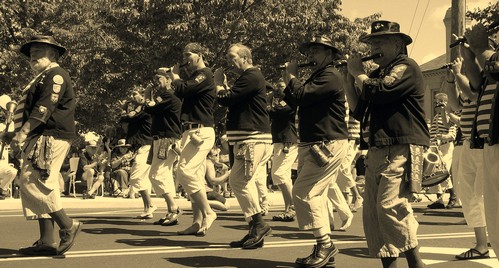 From top to bottom this past weekend was one of the best Westbrook Musters I can recall. The weather was beautiful, the music was a blast and the company was great. Here are just a few highlights for me. Feel free to reply with your own.
Deb, it's so nice to see April again.
John E. Boy, thanks for the interpretive Irish step dancing.
Alan, that spider nearly killed you, glad I could save your life
Dan, if ever you need any attire correction in the future, you can count on me. Besides I don't want you to embarrass the rest of us
Beave, good man on ye ol' goat skins. I guess we'll have to continue carrying the Gary & Ralph torch since there are no others.
Richard Benoit, nice chatting and playing tunes with you. I'll be sending some music your way.
Katie, you are sooo grass roots. Thanks for advertising our session before I knew we were having one. Also, thanks for making me feel good about B minor.
To those two girls from Delmar who said they were going to go find Wi-Fi so they could check out my web site … you girls rock!
Tim, impressive flute playing. Glad I could convince you to play one more tune.
Bosse, I can't believe you played Shenandoah in F! Cool. You've come a long way in a short time.
Deirdra, mighty whistle playing. With a little more practice, you should be able to get those tunes up to speed ; )
Jeff, glad you found us.
Craig, ninety seven versus of The Humors of Whiskey and I could see the finish line for the first time in three years. But, once again, defeat was snatched from the jaws of victory. Someone has to take the blame.
Mountain, you should play that Em tune like nine times through. Good shtuff.
Kate, bring your pipes to Sudbury, we're putting you on tape.
Tish, your fifing rules.
Biscuits, you would have been proud.
McGraw, you know how to make 'em. Thanks for bringing them down. I'm so happy you all came. It was the best part of my day.
Max, I know you can't read, but Happy Birthday my little punky pirate.
Sudbury and the Troopers, Great performances. Thanks so much for playing my tunes.
Rachael, thanks for starting Blackwater Tide in the jam. I guess I should re-learn it now.
The only downer of the weekend was that Mr. Dukes and The Salad Queen did not make an appearance. I hope you guys show up at Sudbury because my fans hate it when you're not there.
finally I'll leave you with Eighteen fifes, Six snare, Six bass, Eight flags, Three gunners, Two prisoner handlers, One prisoner, One musketeer, One Jeff, One Commode and, apparently, a fair young maiden. Boom.