Last year myself and my friends from John Stone's, affectionately referred to as the Stoners, played a concert at Framingham State College. We will be playing there again tomorrow afternoon (March 11th). Here is our setlist, or at least the beginnings of one.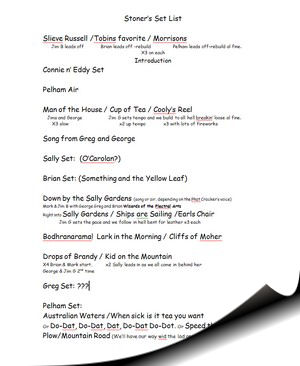 Alright, admittedly it is kind of small. I can't give away all the details. But I can tell you that we will be playing from 1:30 to 2:30 at the Ecumenical and Cultural Center, which is a big stone church. You can find a map of the campus here.
Also, we will be playing a session at John Stone's on Saturday, March 14th starting at 7:30pm. As much as I enjoy the Framingham State gig, I enjoy the session more. They don't usually serve pints at the church.