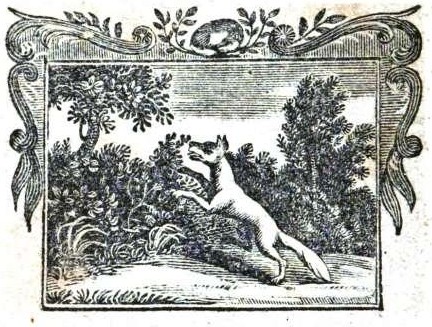 A fox, closely pursued by a pack of dogs, took shelter under the covert of a Bramble. He rejoiced in this asylum; and for a while, was very happy; but soon found that if he attempted to stir, he was wounded by thorns and prickles on every side. However, making a virtue of necessity, he forbore to complain, and comforted himself with reflecting, that no bliss is perfect; that good and evil are mixed, and flow from the same fountain. These Briars, indeed, said he, will tear my skin a little, yet they keep off the Dogs. For the sake of the good, then, let me bear the evil with patience: each bitter has its sweet; and these Brambles, though they wound my flesh, preserve my life from danger.
I was digging through some old recordings and found this track. I recall that as I was practicing one evening this tune just sort of fell out of the mandolin. So, I slipped into my studio, if you can call it that, and put it down for posterity. I never really did much else with it.
Before posting it today I had to give it a name: Fox in the Bramble
What does a fox, a bramble, and the above fable have to do with this tune? Nothing really. I just like the word bramble and I thought the fable was a nice reminder that problems, viewed from another angle, aren't really problems at all. Instead, they are the things that add dimension to our lives, build character, afford us opportunities, and at the end of the day, give us a good story to tell.
Good lessons for crazy times.

Fox in the Bramble by baconworks