Saint Patrick's day is coming up and here is your chance to hear some great traditional Irish music without getting pints of beer spilled on you. I, along with many musicians from the John Stone's session in Ashland, MA, will be performing a free concert next Monday, March 10th at Framingham State College during the afternoon.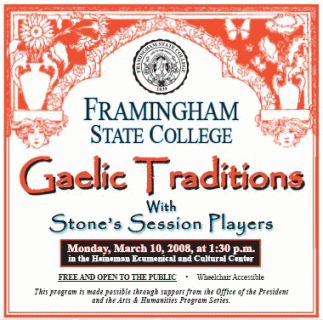 The concert starts sharply at 1:30 pm and will end at 2:15 pm.
I am really excited about this as there will be some excellent musicians on a variety of instruments including the hammered dulcimer, Irish flute, fiddle, bouzouki, tenor banjo, accordion, bohdran and guitar. As a group the session players of John Stone's have been informally playing music for a couple of years. While we are not technically a band, we have all found great pleasure in the quality music that we've played with each other. This is a real opportunity for us to share a bit of the fun and positive energy that we seek each Tuesday evening at Stone's.
So, take a late lunch and come on over to the Heineman Ecumenical and Cultural Center at Framingham State College for a few tunes. Below is a map with the Ecumenical center circled?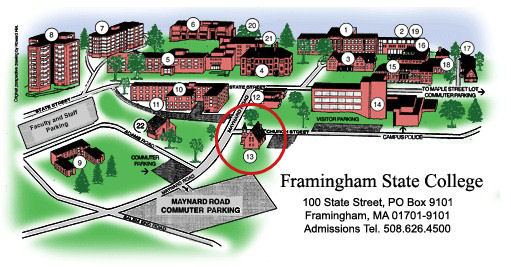 If anyone is interested, please contact me as I may be able to provide you guest parking passes.