I would like to start the author profiles for all those that submitted tunes to the Baconworks Tune-smithing Contest with the winner.
Donald Heminitz plays the fife and the flute. He contributed two tunes: Misty Morning, which was the winner, and The Royal Troubadours.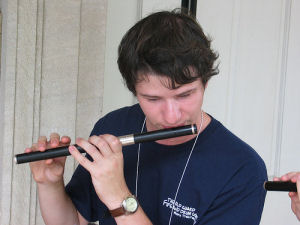 Currently a junior music major at Millersville University of Pennsylvania with concentration on the flute, Donald has been both a re-enactor and fifer since he was 11 years old. He was awarded the "Most Improved Fifer" Award in April 2004 at the Don Hubbard Field Music School and in June 2006 was given the title "Master Fifer" by George Carroll under the ranking system of the International Association of Field Musicians. He currently plays with the Mifflin Guard Fife and Drum Corps, the Colonial Musketeers Senior Ancient Fife and Drum Corps, and the 3rd New Jersey Field Music, which on July 4, 2006 performed live at Times Square in New York City on ABC's Good Morning America. He has also been the fife instructor for the Boy Scouts of America Troop 53 Fife and Drum Corps of Maytown, PA since October 2005.
His web site is http://ancientfifeanddrum.com
Congratulations again Donald.