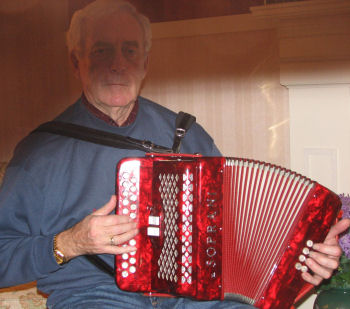 In December of 1999 there was a tragic accident that took the lives of six Worcester fireman. It is quite possible that the number might have been seven had Eamon Marshall, a fellow fireman, not been in the hospital for some planned surgery. Instead of being on the scene with his unit, he heard the crushing news as he was recuperating at his home. As any good firefighter, he regrets not being there to help his men and, as evidence, their pictures still hang on his refrigerator as a reminder of all that was lost.
I met Eamon a couple years ago, long after the fire. Selfishly, I am glad he had a medical issue that kept him from the heat of that day. I am glad because I have had the great pleasure of playing some wonderful music with him and, consequently, my life has been enriched.
Eamon and his brother Jimmie both started playing the button accordion when they were young boys. I can only imagine that the sibling rivalry to out-tune each other is one of the things that shaped Eamon into the fine craftsman of his instrument that he is. But, instead of taking my word for it you can judge for yourself.
A few evenings ago I went to Eamon's home, set up a couple of microphones and the two of us just played. We did not worry too much about getting the perfect take. In fact, most things we played only once. And while there my be a few missed notes and disjointed endings, the overall feeling was quite nice.
It makes me wonder how many people around the world are sitting in their living room with friends making great music. Music that will never be heard. Fortunately, this is one evening that did not slip into the ether without being captured.
Below are a couple of highlights. The first recording is of a lovely waltz that I learned from Eamon. He tells me it is called Matthew's Waltz.
The Maltese Cross is the first tune of the second set. It is a tune that Eamon wrote. The Maltese Cross is the insignia that Eamon's unit wore on their uniforms. We could not remember the name of the second tune in the set. If anyone knows, please leave a comment and let me know.
If you want to hear Eamon play live he is often found at the sessions at John Stone's in Ashland, MA on Tuesday evenings.