I noticed, oddly enough, that I was getting traffic from facebook.com, even though I had not set up a profile there.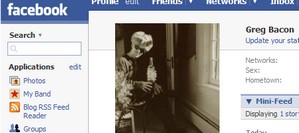 Well, I figured, if it is going to send me traffic…why not set a real profile up. So, without further ado, you can now check out my new facebook profile and become my friend.
While I was at it, I set up a profile at reverbnation.com, where I can promote myself as a "band". Cool. Watch out Rolling Stones.