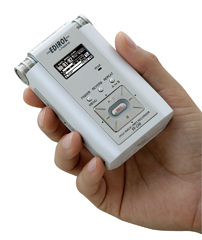 For those that are interested, I did all of my audio recording in Switzerland on an Edirol R-09. I had never used it before and, in fact, a co-worker loaned it to me the day before I left for Europe. I threw some fresh AA batteries in, 2 gig of SD memory and I was off to the races. I found it very easy to use and would highly recommend it to anyone looking for a high quality, compact recording device. I recorded in some very adverse settings such as bars filled with drummers and fifers. In spite of the conditions the quality of the recordings were consistently good.
In addition, I found it really easy to transfer tracks to my computer. Just plug it in via a USB port and it was instantly recognized as another hard drive. Simple.
Amazon has it listed for $349. I give it an A+.