In the early nineties, when I was fairly new to the Mariners, I decided that I wanted to write a medley. I had already played once at the Roman amphitheater in Augusta Raurica in 1990, didn't think we were very good, and decided that for our trip back to Switzerland in 1994 we needed some new music. So, I began work on what would become known as Bonhomme Richard and the Serapis.




I was in college at the time and did most of my writing in the car. I worked as a calzone delivery guy and spend hours driving around campus. In between deliveries, I would work out a few notes at a time then drive with my knees and play the penny whistle on my way to the next stop. It took months but ultimately I ended up with a medley that was a mix between traditional sea chanteys and original tunes.
The medley was welcomed into the Ancient Mariner repertoire and has remained their ever since, which, as I've learned over the years, is not typically the course for new music. The Swiss Mariners, on the other hand, were originally much less eager to learn it. However, after hearing it again in 2004 they had newfound interest in the piece.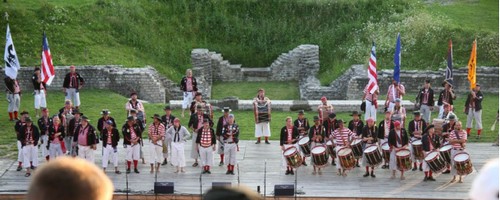 After thirteen years, and for the first time ever, the Ancient Mariners and the Swiss Mariners played Bonhomme Richard together, thus solidifying its place in the Mariner repertoire. It is the one contribution to the corps that I am most proud of. The icing on the cake is that everyone seems to really enjoy playing it.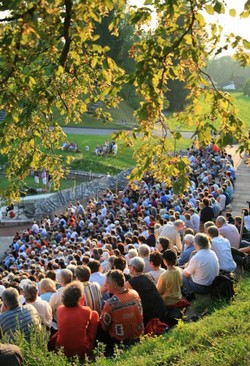 So, a heartfelt thanks goes out to my Swiss friends. Standing with you and performing this together was a real highlight, not only of the trip, but of all my Mariner days. Thanks.