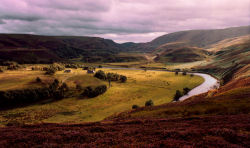 Here is a song written by Dougie MacLean that I recorded with Amadán back in '99 called Caledonia. Sarah Kennedy was our singer at the time. Just to avoid confusion, she is not the same girl that is in the picture of Amadán from my Amadán – Scotsman / Paddy Clancy's post. She was a tough Somerville chick but I really loved her voice. We had planned on recording The Foggy Dew, which I once heard her silence the nÓg with, but when we got into the studio she changed her mind. Such is life.
Damon, our fiddle player, and I had never heard Caledonia, which is a romantic name for Scotland (thus the photo above from flickr), until that day. So, we improvised all the instrumental bits. For the instrumental break I asked the engineer to play the song while a worked out a flute part. Once I figured out what I wanted to do I asked him to roll tape. He said "I've been rolling all along, do you want to take a listen?" I did and decided my job was done.
Not long after this recording Amadán parted ways and I have not heard from Miss Kennedy since. Hopefully she is still singing.