I came to music relatively late and in really the most unorthodox manner.

I was a child during the bicentennial celebrations in the U.S. during the seventies. Living in Massachusetts and being somewhat of a history buff, my father outfitted my sister and I in 18th century garb and toted us from one Revolutionary War re-enactment to another. Consequently, I was exposed to live music for the very first time. It wasn't Rock 'n Roll but instead the ancient martial music that is played on fifes and drums. It was thunderously loud, screamingly pierce and ferociously energizing all at the same time. Perfect for a five year old.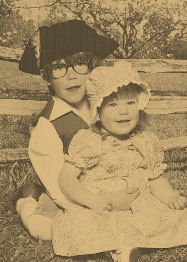 About a decade later I decided to try my hand at the fife. After the Sudbury Militia's annual march to Concord on April 19th, memorializing our countries incipient independence, I picnicked in a field across from Longfellow's Wayside Inn in Sudbury, MA and had my first lesson. Steven Taskovics, a very well respected fifer who currently performs with the Middlesex County Volunteer Fifes & Drums, showed me a scale and I later took some lessons with Ole Dan Moylan.

From there I went on to play with The Sudbury Ancient Fyfe & Drum Companie and ultimately The Ancient Mariners. The year alternative music went mainstream my future wife bought me an Irish flute. From there a little Celtic band, Uther which later morphed into Amadán, was formed. More recently I can be found on most Tuesday evenings playing with good friends, like Unstachio, at John Stone's Public House in Ashland, MA.

In the last twenty years playing music on fife, Irish flute, penny whistle, guitar, tenor banjo and bouzouki has change my life. Music has given me opportunities to travel around the world, perform for presidents, on the radio, pops concerts, festivals, small clubs and in ancient Roman amphitheaters. More importantly, music has introduced me to my closest friends and has taught me about love and life.





With this blog I intend on sharing my music, its origin and its evolution. Along the way I might sprinkle in a few stories and the music of others that have inspired me as well as a few traditional tunes I enjoy. Please stay tuned!